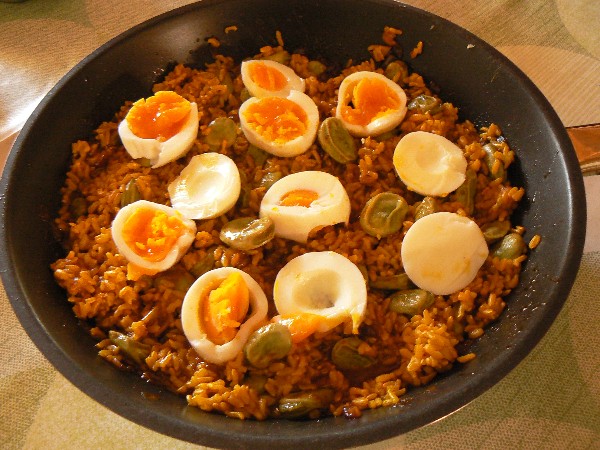 In the south of Portugal this is the time of the fava beans. So now we are eating them almost every day.  That is okay as long as we have enough recipes to use.
When we don't like them any more I dry the rest for later in the year.
I like recipes that use what we have available. Here is one for fava beans.
Ingredients:
Brown rice
Fava beans
Onions
Butter
Sugar
Salt
Curcuma
Pepper
Cajun spice
Mild Curry powder
Optional: Whey
Eggs
Action:
Put the brown rice in a pot with a finger pad of water on top. Ad a bit of Curcuma pepper and salt. Place  the pot on the stove and cook it until it's done. Put it in your bed to keep it warm. A bed is a good place to keep rice warm. Make sure you wrap a towel around so your bed does not get sticky…
Chop the onions in small squares. Fry this in a pan with some butter, sugar, salt, mild curry powder and caramelise the onions. Than ad some cajun spices, tomato ketchup and if you have some sweet soy sauce and a glass of water.
Let it simmer for 4 minutes.
In the mean time boil the fava beans in water (or whey, if you have) for 5 minutes. When cooked ad them to the sauce.
Mix everything and serve with fresh boiled eggs on top.
Enjoy your meal!