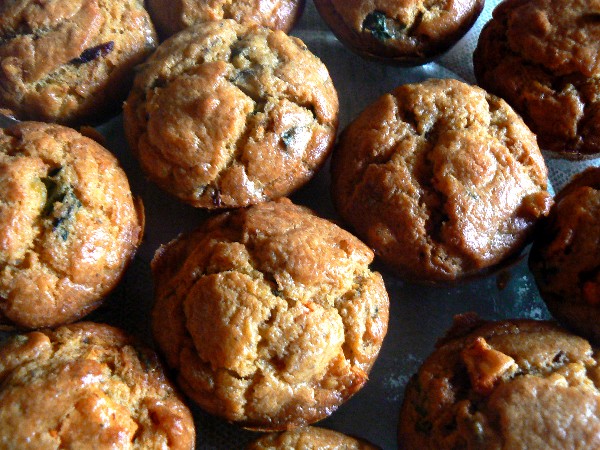 This Savoury cupcakes recipe is simple and quick to make for those who love good food from their own ingredients and who don't have much time to cook. These cupcakes I invented myself. You can do the same and use the same basic recipe and just change the ingredients, nobody will notice. You can even change the type of flour. I used ricotta, but you can also use yoghurt or buttermilk or milk or even cream. This amount fits into a 12 cupcake form.
The basic recipe.
This is a variation of my grandmothers sweet cake recipe, the sugar that is normally mixed with the butter is left out and salt and pepper are added:
150 gr butter
3 eggs
150 gr white flour
tsp baking soda
salt
pepper
As a choice:
4 full tbsp ricotta
1 big carrot
2 big leaves of Swiss chart
bit of ginger
1 glove of garlic
1 onion
1/2 tablespoon of sugar
1/2 tbsp curry powder
bit of oil
Here is how you make it:
The batter: Melt the butter a bit so it is very soft. Mix the eggs in one by one, mix it well. Add the ricotta. Mix the flour with the baking soda and mix this into the butter, eggs and ricotta.
Chop the onions and keep them separate. Cut vegetables, garlic and ginger. Fry the onions in a bit of oil when they start to be shiny pour the sugar on the onion and let them caramelize a bit. Then add the rest of the vegetables, curry powder and salt, very short, the vegetables will still go into the oven so thy should not be too soft. Add the fry to the dough and mix.
Carefully scoop the mix into the cupcakes with a tablespoon. Pre heat the oven for 10 minutes on 165°C. When the oven is preheated place the form on the oven and bake for 25 min. When the cupcakes are a bit big it might need 5 more minutes.
Enjoy your meal.