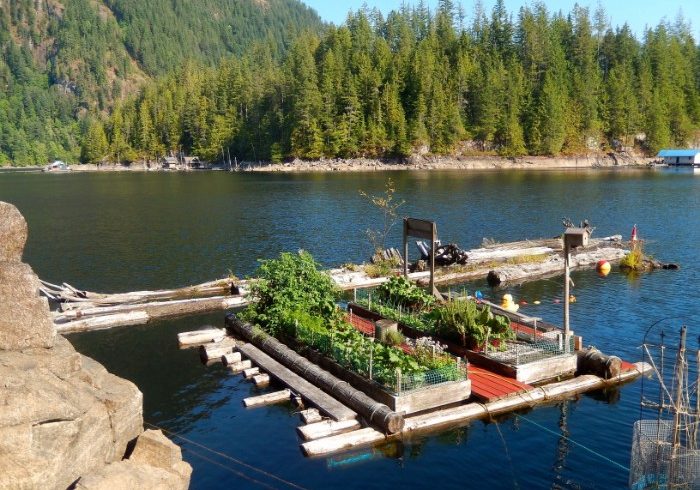 A guest post written by Margy Lutz. Margy describes her life on a float Cabin Home on Powell Lake in Coastal British Colombia. She has a very special float garden. Her husband writes interesting books about their off-grid life.
I want to thank Monique for inviting me to write a guest post. She's an amazing homesteader with lots of experience and knowledge to share with her readers and visitors.
A Float Cabin Home on Powell Lake
First, I'd like to share about where I live. My husband and I have an all-season off-the-grid water-access float cabin on Powell Lake in Coastal British Columbia. We've lived here full time since our retirement and Canadian residency approval in 2008. British Columbia has a long history of using float cabins and workshops for forestry and fishing along our remote and steep coastline. Historically on Powell lake, float cabins were inexpensive retreats for paper mill workers.
Our cabin is just above sea level. We get a dusting of snow in winter, but the weather is relatively mild for our location. Fortunately, the lake is unusually deep and doesn't freeze. And long summer days are perfect for gardening.
A Raised Bed Floating Garden
I've always liked gardening. Maybe I got it from my grandparents who were farmers.  I wanted to grow some food of my own. Our good friend John, who built our cabin, came up with the solution, a special float that holds four 4X10-foot raised beds.
The float garden is separate from our cabin. A rope pulley brings it in for me to garden, then it goes back out to the front log boom where it's protected from nibbling critters.
Nutrients are leached from the shallow soil by rain and frequent watering. In spring I augment it with compost and mushroom manure. Several times throughout the growing season I add plant food. Even here I get traditional garden pests, but I don't use insecticide. We don't want poisons in the lake water we drink.
My garden has spring daffodils, then summer marigolds and alyssum for color and pest control. My crops include herbs, garlic, onions, radishes, beets, carrots, kale, broccoli, bush peas, spinach and a variety of lettuce. Over the years I've grown strawberries, asparagus, Brussels sprouts and potatoes in my beds. Crop rotation helps to reduce pests and provides variety.
For watering I use a solar powered boat bilge pump with a hose.  It's much easier than a watering can and gentler on the plants. When I had a small plot on shore I used a tarp and rain barrel system. That was a good solution for a spot without a water source.
Container Gardening on the Cabin's Decks
In addition to my float garden I have numerous pots and large containers on the cabin's many decks for additional plants, especially ones that take up a lot of space. Here you will find potatoes, tomatoes, beans, peas, cucumbers, peppers, squash, rhubarb, blueberries, red currants, more flowers and herbs for easy access.
Gardening takes a lot of time from May through September, but the rewards make it worth it. The garden isn't large enough to be self-sustaining, but each dinner has something I've grown myself. I've also learned how to preserve excess produce for use during the off season.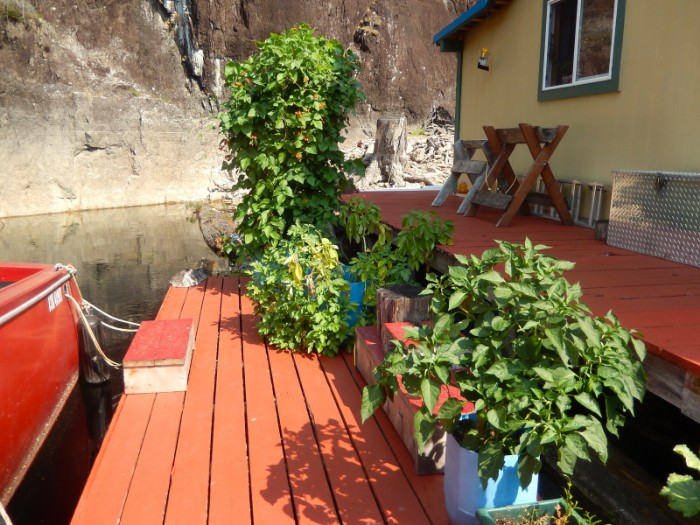 Winter Gardening
Fall is the time I put most of my garden to bed. With a little effort, the growing season can be extended for some plants. I leave my kale, beets, carrots and broccoli in the ground with extra mulch around them. Clear plastic bags protect plants in containers. They ward off heavy rain, focus warmth from the waning sun and reduce damage from freezing.
Composting
Composting is an important part of my gardening. I do it all onboard. During the growing season I use the chop and drop method. Garden and kitchen vegetable waste is chopped into small bits and used as mulch. In fall I use my empty potato growing barrels to compost the large amount of plant cuttings. Monique has an excellent post about chop and drop. It's how I discovered her website and blog.
More Gardening Information
You can read more about my gardening exploits and other aspects of float cabin living in my husband's books Up the Lake and Off the Grid: Getting Started available in print and Kindle formats from Amazon. Also, here is a quick link to the Gardening Category on my blog.
My story shows you can garden just about anywhere: containers on an apartment balcony, sprouts in your kitchen, a plot in the back yard or edibles interspersed with ornamentals. The options are endless. Start small and learn as you go. If it can work for me, I know it will for you. Thanks for reading my post. If you have any questions leave a comment, visit my blog or email me through the link in my blog profile.
Happy gardening! Margy Lutz