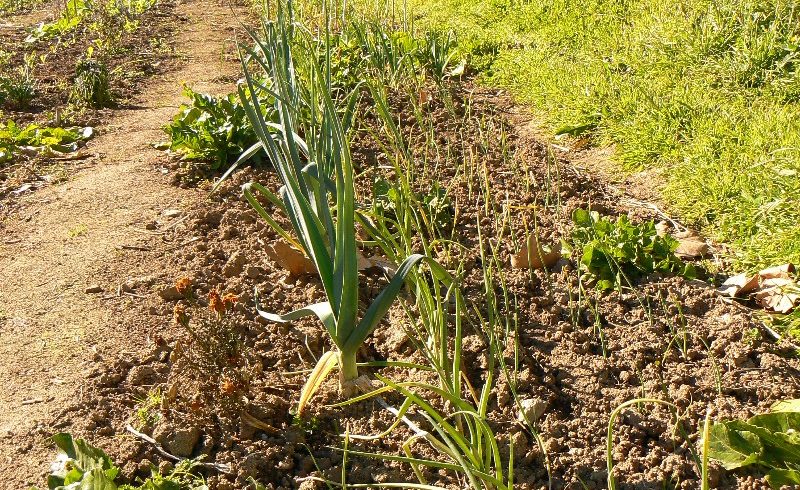 We live about 6 km from the town of Monchique , which is a pittoresk town in the hinterlands of the Algarve. In the town there are many terraces where people keep their vegetable gardens, mostly from people who live in town.
Our friends Anna and Carlos, who live in town decided to share  their terraces with people from the Monchique Transition group.  As one of the founders of this group we joint in.
We use one of the plots that was available, this plot is about 400 m² wide. Our layout is very simple and straight forward since we use a drip irrigation system that only works when laid out straight. There are 8 beds of 21 m  long and 1.20 m wide. Two beds with asparagus, which is a perennial (for 12 years), and 6 beds for crop rotation.  The planting schedule is carefully planed.
Compost making is key in an organic garden
In the garden the vegetables are grown organically. Hence compost making is a key activity in our garden. To make compost we build a composter ourselves. In the composter we build up a compost heap from green manure, weeds without seeds and manure from our goats. We mix the goat manure with straw. Some times we use composted humanure as well. Every week we turn the compost into the other compartment of the compost maker. After five weeks the compost is ready to use in the garden. To read more about making compost check our blog: 'Two ways of making compost'.
In the picture below you can see the broad beans growing on the compost, they are doing very well.
Always cover the earth.
To make sure that the soil is never naked we use oats and lupins as a green manure. Green manure improves the quality of the soil. It covers the soil so it does not dry in the battering sun, as a result micro-organisms and small useful insects have a better chance to survive. The green manure that we removere can be used in the compost heap to make compost. Lupines are nitrogen rich, which will enrich the compost. When you dig in the green manure when it is still young it will ad fibers to the soil that will become humus. This prevents the soil from making a crust and it will keep nutrients in the soil. If you want to stay updated subscribe to our blog news or follow us on Facebook.
Pin it for later: