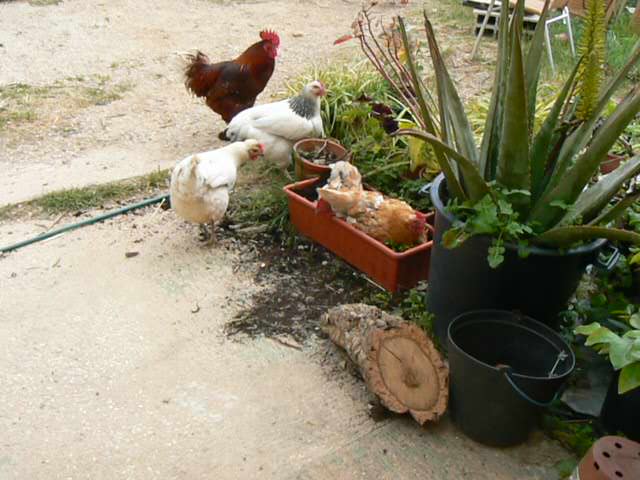 Using chickens in an orchard as Medfly pest control is an very effective way to get rid of the flies in an organic orchard. Chickens are very useful animals. They provide you with very nutritious eggs without a big effort and chicken meat is also good to eat. Apart from that you can also use them to prepare your vegetable garden; or to keep your orchard free of Mediterranean fruit flies or Medfly.
These little flies breed during the hot month in the area where we live. They lay their eggs in fruit, there the eggs come out and the worm produces a kind of enzyme that destroys the fruit from the inside. It then looks mushy and brown and is not tasting good anymore. It can destroy your whole fruit harvest.
In latin the small fly is called Ceratitis capitata. Since we are growing organic certified fruit we can and do not use chemical treatments and we have to search for more natural ways of pest control. So we looked into the life cycle of the fly and discovered that after the larvae have grown in the fruit the larva or sometimes the whole fruit drops on the ground, the larva becomes a fly and the fly destroys the next fruit by laying an egg in it.With chickens you can interrupt the cycle from taking place. We have very positive experiences with using chickens.
The first fruit that is endangered is the St.Antonio plum it ripens around St. Antonio's day which is the 13th of June. It depends a bit on the weather whether there are just a few or many flies. As soon as the plums start to ripen we put our electric chicken fence around the terrace where the plum trees are, put our portable chicken house under the trees and move some chickens in, mostly 5  or 6. The chickens love to eat the larvae,  they even pick them out of the fallen fruit and prevent the larvae from becoming a fly.
After the plums the first apples start ripening, so we move the chickens to the apple terrace. By the time the pears are ripening the flies are almost gone. They do not have a chance.
Last year we had the chickens free ranching and we did not have a single infested fruit. The free ranching of the chickens however can be problematic if you have non walled terraces like we do. The chickens can destroy the terrace banks, so we prefer to fence them in.
Pin it for later: