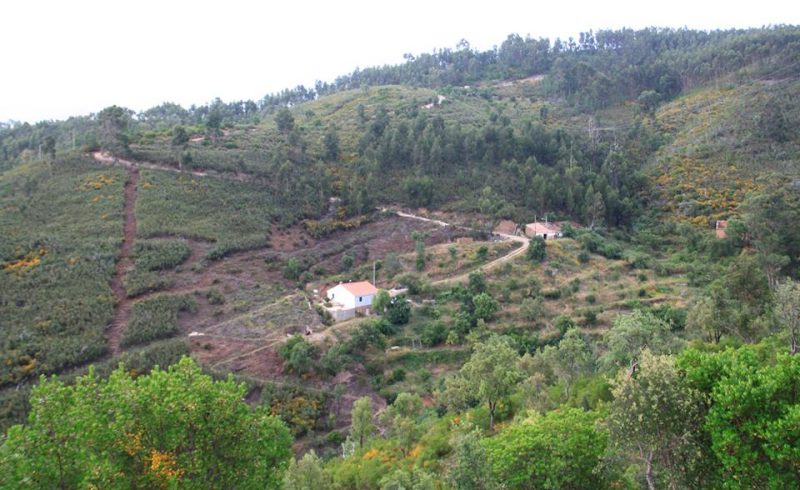 What is the best location for a homestead? What should we consider? How do we know if this place is good for our dreamed Homestead?
Buying a piece of land to live from is not a light decision to make. After all it is quite an investment in time and money. That is how we felt when we were looking for a piece of land many years ago.
I still remember roaming the area. We decided to buy something in the south of Portugal. Then we became more specific and wanted a piece of land in the Serra de Monchique.
One of our considerations was that we wanted something in the middle of nature.
Starting a Homestead in a Remote Area
Friends of us had moved to the Serra de Monchique, a mountain range in the south of Portugal. They chose for a very remote place.
I stayed at their place for almost a year. In the evenings it was absolutely silent. You could hear the train running into the Saboia station 30 km away, not a sound would interfere. During the days the Serra was filled with humming bees and other insects collecting honey, the sounds of all these beautiful creatures together was one big loud hum. It was incredible.
The views were amazing and the air was clear and healthy. Everything was lush and green. I loved it and dreamed of living the same way.
In the last month I was staying there I was looking for a piece of land for me and my parents. My parents had agreed to buy a piece of land in the Serra de Monchique to stay on after their pension. I wanted to live in nature, so we chose to go to look for something together.
A remote area is a challenging place
Living in a remote place can be a great adventure, but it also has it's challenging sides. After many years, we bought in 1995, I am happy that we compromised on a site that has a remote feeling but is actually not that far from the small town of Monchique. I found it very tempting to buy something very remote, but now I am happy we did not.
This might be different for you, or maybe you haven't decided yet. Even if you are thinking of going to live very remote it will still be interesting to know what you have to take into account. It's always good to be well prepared.
Based on our and our homesteading friends experience I wrote a blog in which you can read about the challenges that come with living in a remote area. Like the distance you will have to travel to shops, doctors and schools. Or even to the marketplace where you want to sell your surplus.
Click here to view the blog: "Starting a Homestead in a Remote Area".
Finding a Homestead Location with Good and Sufficient Fresh Water
While we were looking for our land we made more friends that were very helpful to us. Without their tips we would not have been able to find Terra do Milho, our beautiful piece of land in the Serra de Monchique in the Algarve.
One other tip that we got is that we have to look for a place with sufficient fresh water. Enough for our household and for irrigating the land. Although de Serra de Monchique is known for its water in general, some places can still be dry in summer. The summer can be long and dry and sufficient water for irrigating is very important for producing food, let alone for running a household. Since we wanted to produce our own food we would not be able to do so without enough water.
It all starts with finding out how much water you will need and end with how to get that amount of water.
In my blog about finding a Homestead Location with good and sufficient freshwater you will find all the tips that helped us so well when we were looking for our homesteading location. It will also give you some tips how to find out how much water you will need.
Click here to go to this blog: "Finding a Homestead location with good and sufficient Freshwater".
Finding A Homestead Location with Good and Sufficient Fresh Water
The Best Homestead Location and the Position of the Sun
Our neighbour friends down in the valley have an amazing piece of land. It is situated between two creeks that meet at the very end of their land. In the summer the place is nice and cool.
But there is also a dawn side that our friend regret. It is facing north. I the hot summers from our mediterranean climate living at a north facing location is very pleasant. Especially when the sun takes a while before it rises above the mountains and hits the soil. In winter however it is cold and there is not much light to change a solar panel.
Our pieces of land are only half a km apart, yet their fruit ripens two weeks later. In summer our friends can grow lettuce in their garden, something we can forget about, because we are facing south.
So there are pro's and con's on both sides it is good to know in advance what you can expect. In this case both locations are beautiful to live on. Sometimes sites can be so deep in valley and shaded by mountains that living on them becomes a challenge because there is not enough sunlight in winter.
When you choose a location it might be in the middle of the summer. How are you going to find out if there will be enough sunlight in the winter? For your solar panel or for your wintergarden?
In my blog "The Best Homestead Location and the Position of the Sun" I will give you the information you will need to find out. Click here to read the blog.
Things To Avoid When Picking Your Homestead Location
Besides things to look for there are also things I would avoid to have on my homestead location.
Little creeks can become destructive small rivers. A place with an amazing view in summer can be hidden in the clouds from the whole winter. Soil pollution can be best avoided and wildfires can be a reason not to move into an area.
In my blog "6 Things To Avoid When Picking Your Homestead Location" I will discuss 6 things to avoid. Click here to go to the blog.
A good start.
All together the 4 topics in this blogs will give quite a complete idea what to look for when you are choosing a location to start your own Homestead. It will help you to get on your way without buying something you would regret when you are getting started.
No location will be perfect but at least you will be able to rule out things that are really in the way of living in your homestead with some comfort.
I wish you all the luck of the world to find your dreamed homestead location.
Find out more…
Find out more about starting your own homestead on our Terra do Milho website. Click here and go to Homesteading For Beginners.